by Socrates – March 21st, 2013.
A quick note: if you want the absolute top advice about how to meet or date, or do Korean women, nobody is better than Dan Bloom. Dan Bloom is Korea's foremost expert on Sating Korean women, so check out his website Korea-Dating-Tips.com as soon as you get a chance to.
I'm always really amazed by how far the misunderstanding can go when it comes to the topic of meeting and sexing-up Korean women while visiting South Korea. A lot of guys seem to have it stuck in their head that meeting Korean women and having sex with them is easy – like breathing. Other guys seem to be far more cynical about Korean women, and consider the possibility of meeting a high value Korean girl a write-off, not something that can be obtained in this lifetime.
Of course, at least a few foreign guys are hooking up with Korean women, judging by all the foreign guys who have their arms wrapped around Korean girls… even if those Korean women seem to be low-grade. It's definitely not impossible to meet and date, if not have sex with Korean women, but it isn't a cinch, either.
So How Hard Is It?
Korea is a decent place to find an Asian girlfriend, but not an easy place when it comes to sexual conquest. While a lot of Korean women are in to foreign guys, the truth is that far more Korean women are just not interested in having a relationship with a foreign guy. Some don't even want them as friends. But that
doesn't mean getting a Korean girlfriend isn't easy. Even though their ranks are smaller than the anti-foreigner crowd, there are still legions of Korean women interested in dating foreign men if they get a chance. Establishing a relationship with Korean women, for all but Asian Dating Monthly readers, usually takes meeting them in the right social settings, multiples dates, putting up with an extreme lack of sex initially, and having to maintain her fickle happiness in the relationship for a while before things progress sexually. Not exactly ideal, but the situation is substantially different if you know how to successfully meet and date Asian women.
Usually the Korean women who end up dating foreigners are a certain type of Korean. They're dissatisfied with Korean culture and want to escape, or they are interested in foreign cultures and new experiences – they want to explore. A few are just curious, and want to see what foreign guys are like, while some want to experience the savage love-making of a foreigner, and then slip out of his house before he wakes up the next morning. While it's possible to meet and date a Korean woman who doesn't fit these categories, it isn't common.
Having casual sex with Korean women, just randomly hooking up with them, is a little more difficult. Korean women don't have casual sex as readily as western women. Western women (or any other women in Asia for that matter) are far more permissive, and can even push to take you back home. I have never heard of a Korean woman who was this sexually aggressive, but casual hookups with Korean women are possible if you visit the right places and put in a significant amount of effort. Pay close attention to the last sentence – it does take a significant amount of effort to be able to regularly sex-up new Korean women, unless you're one of the handful of men that Korean women find really attractive.
Where Are the Best Places to Meet Women in South Korea?
Everywhere. Women are basically everywhere… …but if you want to meet one to date or do the sideways dance, than you'd be better off focusing your efforts in places that have the best possible payoff.
International parties are great places to meet girls to date. If you really want a girlfriend, then screening for open-minded, or internationally-minded, girls is a definite must. International parties attract a good mix of foreign guys and Korean women who want to meet member's of the opposite sex, and opposite culture.
The same can be said about language exchange. There are a large number of cultural exchange groups that aim to explore each other's language and culture. Joining one of these groups is a snap; but, if you can't find one, or don't want to bother joining an overly-happy group of culture-exchangers, then look through the classifieds for girls interested in exchanging language lessons. Many of these girls are secretly looking for foreign guys to sweep them off their feet.
Advanced Options
While the above are by far the easiest ways regular guys can meet and date Korean women, there are much better options if you know what you're doing. As with anything in life, generally, the easier something is to get the less valuable that thing is. While the above are likely the easiest ways to date Korean women, the women on offer in those situations aren't always the highest quality. To get your hands (lips?) on some of the best Korean women available, you really should be focusing your effort on more advanced options, and building the necessary skills to navigate through them. You can start by taking a look at our free guide to meeting sexy Asian women just below;
More in-depth information can be found on Dan Bloom's site here. prep in advance by reading these three articles:
5 Things You Can Do in the Bitter Cold of January to Get Laid More This Spring
You Don't Really Want to Get Better With Women
How Important are Physical Looks When Meeting Women
But let's continue…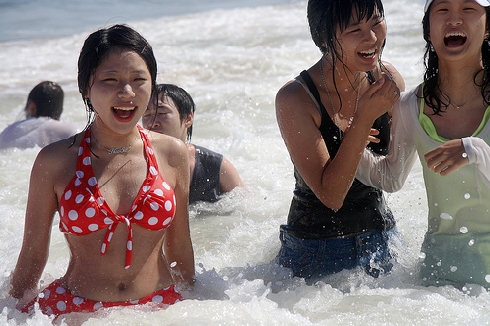 Advanced Options
By far, the best way to meet high quality Korean women is to apply some social suave and talk to attractive girls you meet out in public. Of course, talking to random women out in public can wash massive waves of anxiety over a guy – but you can overcome this, and if you have a decent understanding of how you should go about talking to attractive women you see in public then the rewards can be very very good.
I find it funny that a lot of guys say that trying to meet Korean women during the daytime is a waste of time. While nighttime might have more options in
terms of finding venues packed with women who are interested in foreigners, many hot women just don't visit those venues, so can only really be approached during the daytime. Coffee shops are great for this. I've seen hundreds of amazing looking girls sitting alone, bored out of their mind, at coffee shops in Seoul. These girls often respond well when someone walks up to talk to them, foreigner or Korean. A warm reception gives you a great opportunity to wow her… with a silky-smooth conversation.
Just remember that, while it's definitely workable to get dates from the girls you talk to in public during the daytime, it's far easier to meet and date women you meet at international parties or language exchanges. Unfortunately, the ease with which you can meet women at those places means that competition with other guys is fierce, and the girls they're fighting over just happen to be… well…
Swag When the Sun Dips
I've gotten pretty much all of my dates by meeting women out in public during the daytime. That's not common – most guys I know have gotten dates both during daytime and nighttime at night venues such as clubs and bars, but the hunting is so good during the daytime that I really don't see the need to go out to bars or to meet women. It's a different story entirely if you actually enjoy those venues… but keep in mind that it's also harder to actually have a first date with a woman you met at a club – a lot of the time they fall off the map.
Meeting women during the nighttime can be difficult or easy, depending on where you're doing it, though. If you want to meet Miss South Korea, then you can be sure that she's not going to be going to any international parties or hanging out in expat bars, but those places are still great places to snag some decent foreigner-crazed Korean women. You just have to know where to go.
Pretty much every city, or major commercial area, has an Expat bar or two.
These are the places that Expats flock to, places jammed with guys wearing basketball jerseys, complaining about their teaching jobs in between games of beer-pong. Sometimes you also notice single Korean ladies sitting up at the bar, maybe with a friend or two, wanting to get talked to. Those are the girls you'll have the most luck with when you head out at nighttime. A lot of the time Korean women who want to meet foreign guys will slip into one of these bars and wait to be approached by some guy who knows how to skillfully talk to a lady. Most guys just try to undress these women with their eyes when they should be charming them, spending time with them then actually undressing them later that night. If you have any idea what you're doing when you talk to women, these girls can have a huge payoff.
Foreigner bars don't have to be sketchy, though. Actually, they don't even have to be packed full of non-Koreans… they just have to be places that a good number of foreigners often go to. You can bet that if foreigners consider some little club a good hangout spot then Koreans know it as a place foreigners like to spend time at on the weekends… and foreigner-hungry ladies will know it as a spot they can bat their eyes at foreign guys.
The Top Night Spots…
But Miss Korea won't be spending time at these little hole-in-the-wall clubs, either. Seoul is renowned for it's nightlife – it has some of the best nightlife in Asia. If you want to meet the best looking Korean women possible, you'll have to be selective when it comes to choosing a night venue.
As far as districts in Seoul go, Gangnam has the hottest clubs around – these are places movie stars visit, places exceptionally beautiful Korean women spend time trying to catch the biggest fish in their pond. Meeting women in these places, though, is extremely difficult – and for good reason. With movie stars and singers, business tycoons, and Korean gangsters running around these places, most guys visiting Korea look …lacking by comparison (hey, I still like you!). It's definitely possible to meet women in these clubs, but you're definitely stacking the deck against you – it is much harder to meet women at Seoul's top clubs than it is at popular bars in the city, or even much less posh dance clubs in Hongdae or Itaewon.
Improving Your Odds
Don't get discouraged – you don't have to date the Korean girl as thick as she is tall. It is possible to meet and start relationships with some of Korea's hottest women but, unless you're in that top 5% percent of attractive guys, you'll need some skill behind you.
Start by drastically improving your style. Style communicates a tremendous amount about a guy, and you'll find that women will be much more attracted to you in Korea if you dress well. To start, take a look at what's draped around the mannequin.
Next, if you're not the type of guy who is at home being friendly and witty with perfect strangers, if you're not the fun Mr. Social, it's time to bring out that side of you. Asian women love confident guys who can make them laugh through goofy humour. Avoid sarcasm, word-plays, and language subtleties at all costs.
You should also have a clear handle on exactly what it is you want. Identify those perfect traits that you would want in your ideal women, and be ready to ask a woman questions to find out if she conforms to your standard or not.
Of course, there is much, much more to it than that but, once armed with some basic weapons, focus on your preferred geographic niche. Hongdae is great for the young college crowd, girls who party on the street, in public parks, or in cheap bars. Itaewon has by far the highest concentration of foreign-guy-loving-girls, but you'll be competing with American soldiers and a large chunk of the foreigner population for those girls. Get your elbows up. Gangnam has the best looking girls in Korea, and there is a coffee shop on ever corner, but the dance clubs here are a whole other world.
Final Thoughts
So there you have it – how to meet Korean women in 2000 words or less. Of course, there is a substantial amount of detail that has been left out of this series, and for good reason. While meeting Korean women – or women from any other Asian country – can be easy if you know how to do it, there is far too much to write about than can fit into a single article, or series of articles for that matter. If you're looking to get better at meeting women from South Korea or anywhere else in Asia, we're here for you. You should also turn to Dan Bloom's fantastic site, Korean-Dating-Tips.com. Dan is a guy we know extremely well, and one of the most respected dating coaches in Korea.